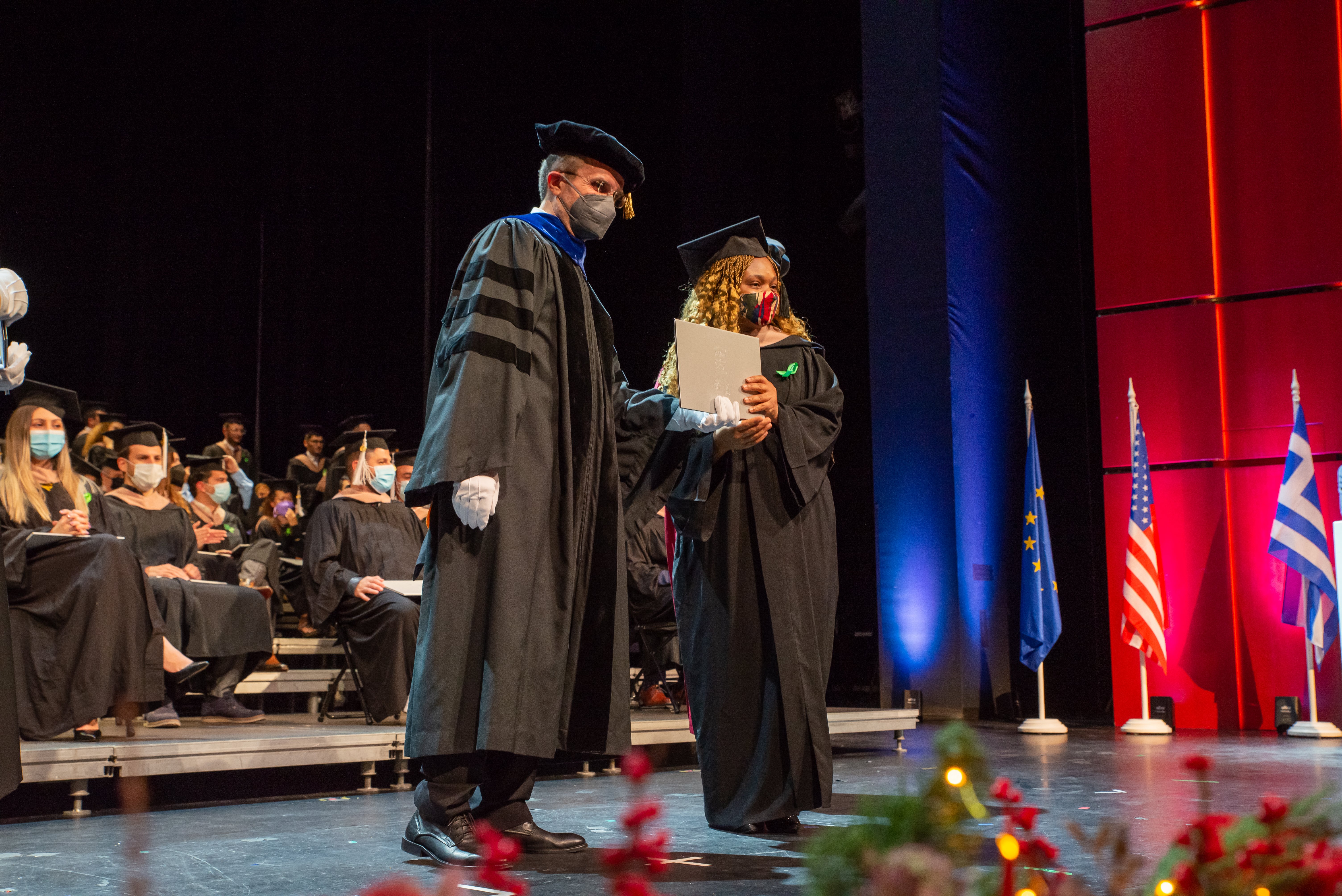 Discovering Alba Graduate Business School
Our first contact with Alba Graduate School was for an online information session in 2018. I was immediately contacted by a counselor, who gave me details about the programs available and how to apply. I had just started a new job and could not attend the in-person orientation session. I applied for the first year and was told there were no available spots for the intended program. I went back to focus on my job and, in 2019, attended a graduate degree information session at Alba's campus at Xenias Street in Athens.
My first steps on Alba Graduate School premises
Try to picture this image. You are an eight months pregnant woman entering a room with a lot of people, and all eyes are on you. You feel like, "ohhh my GOD!! Am I at the right place?" And the eyes looking at you are kind of saying, "are you lost?" But the answer to the above questions is simply "no." You are exactly at the right place, and while all these thoughts are still making a selfish journey in your mind, there is a smile that gives you hope. A smile that welcomes you and offers you a seat, asking you if you need any help with translation since the session is being held in Greek. This simple gesture of interest drives and strengthens you, comforting you with the idea that you are on the right path.
Then the session comes to an end. As if reading your inquisitive mind, you are offered a one-to-one session to discuss your plan of studies and the available payment options. You are given the opportunity to discuss your background, your skills and capabilities, your values and vision, your motivation, and your projects for the future. The more you discuss, the more you have the feeling of a wide-open door coming to you. Then comes the question about payment options, and you are informed that you can have full scholarship coverage for a program of your choice. The only conditions are to fill all the requirements for the scholarship program. Then you are even given a chance to come back the following year after giving birth.
Applying for the scholarship
You make sure during your nursing mother period to complete all the scholarship application requirements. You go through the interview process, and the crowning finally arrives!! The letter says, "…we inform you that you have been accepted for the Master of Finance in Alba." On top of everything, your studies are fully covered by the scholarship you have been granted. In short, you have nothing to pay!! It is a memorable day, and already, at this point, you feel you have achieved something. For some people, it might just be a step into a process, but for you, it is the opportunity you have been expecting for 2 years and will serve as a ground floor for the international career you have been dreaming. And while you keep on asking yourself questions about campus life, you are informed that all classes will be given online due to COVID-19. Here begins the real journey.
Online classes Alba 2020
From the moment you receive your credentials for the various platforms of the school, you feel as if you have just received the keys to a whole world of opportunities. Your excitement is at the top, and you can't wait to take your first course, meet your instructors and chat with your classmates. As an international student, you are welcomed and given the correct instructions by the academic manager and Alba Graduate School leaders. You keep being on a sunny cloud until the challenges start to show up!!
As a migrant and single mother, you face the challenge of survival in a country where you have no family members to rely on. Therefore, even though your courses are totally free of charge because they are covered by the scholarship you have, you still need to work full time. Combining full-time studies, work and motherhood have been so challenging that, at some points, you just want to give up on everything and run away. But wait!! It doesn't resemble you at all. You like challenges too and the only way to overcome them is to keep giving your best!! You find yourself sometimes crying in your room, but when you see your transcripts, you realize that you are on the right path. Suddenly all the stress, tears, and sleepless night have the best value, and you want to succeed for the little creature that relies on you as a model, for your own pride, and also for those who trusted in you enough to believe that you can make it. You have to battle every day with your frustrations, whatever the situation, but thankfully you have a great team always available to support you.
Alba Graduate Business School gave you a once-in-a-lifetime opportunity, and you don't want to let it go for any reason, so you take advice from academic managers, employment coaches, mentors, instructors, and classmates. Each of them brings a new stone into the building of your success and empowers you bit by bit. The more you move on, the better and prouder you feel about yourself for what you have achieved so far. On top of all these, you have access to job placement opportunities, career coaching sessions, and in-person and online conferences on various topics to build your leadership skills and empower your speech.
Overall my journey at Alba Graduate Business School taught me that school and degrees do not make anyone rich. What makes you rich is the knowledge you acquire. This knowledge makes you a golden treasure, and the only thing you need to get rich in life is to exploit the precious asset you are to achieve material riches and empower your surroundings.